Last we visited this subject, the Winter Games were about to begin.  We identified three major email senders who were generating communications to the Olympics audience.
"The Olympic Channel," run by the International Olympic Committee.  
The official PyeongChang 2018 Organizing Committee itself.
NBC Sports, which owns U.S. broadcast rights to the 2018 Winter Games.
The table below digests activity from each of these senders during the actual period of the games.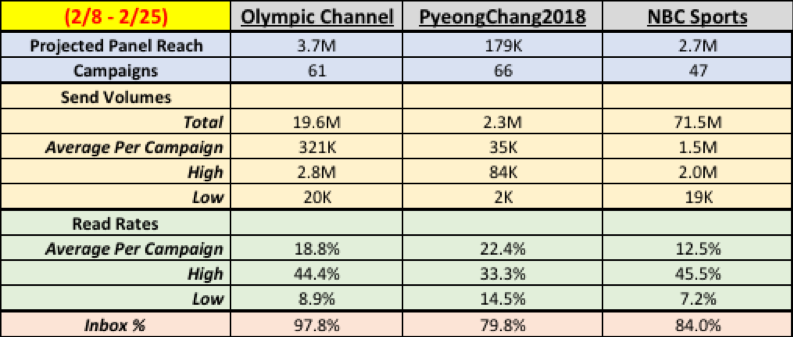 Highlights:
The Olympic Channel leveraged the largest email audience, of the group the lowest number of email campaigns, and deployed more emails than the Organizing Committee, but far fewer than did NBC Sports.  Their average read rates were high-moderate, midrange among the three, and their inbox placement was excellent — the best of the group.

The Organizing Committee mailed into a surprisingly small audience, and only  few more period campaigns than the Olympic Channel.  Mail volumes were tiny compared to the other two senders, but read rates were by far the highest.  Inbox placement was below the 90% we consider the minimum acceptable.
NBC Sports leveraged a very large audience, mailed 23% fewer campaigns than the next largest sender, but deployed more than three times as many emails as that sender.  Average read rates were the lowest in this group, and inbox placement was also subpar.
Predictably, messaging from all three senders was mostly a mixture of event schedule reminders, athlete profiles, and competition highlights and results.  In relation to the respective sender's estimated audience size, average campaign send sizes for both of the Olympics senders were relatively small (8-20%), suggesting some level and means of targeting, possibly supported by subscriber preference capture at sign-up.  NBC Sports' average sends were almost 60% of its total audience size, suggesting relatively less message targeting.
Below are examples of strong performing and/or large circulation campaigns deployed by the three.   The strong subscriber engagement clearly seems to have been powered by subscriber interest in the Games, rather than by enticingly worded subject lines.

Postscript:
One noteworthy — and troubling — element at this point is what we're not seeing of Olympics email.  The 2018 Paralympics Games begin this week.  It's recognized as the world's third largest sporting event, behind the Olympics and the World Cup.  NBC is said to be doubling its coverage versus the 2014 Winter Paralympics.  Yet, email support for this event from any of the above organizations is — thus far — virtually non-existent.  In fact, over the past month we've seen a total of eleven such campaigns from any source, including only one each from the Organizing Committee and NBC Sports.  Maybe things will improve.